Its been awhile since we last added new item (it being POSBANK APEXA G Starting $789) which amazed us with the affordable price and the performance.
Today, we introduce OPTIMUS from OKPOS!  As a background info on OKPOS, Point of Sale hardware market has been dominated by OKPOS for a bit now.
After playing around with products from OKPOS for a bit, it wasn't hard to see how it was possible.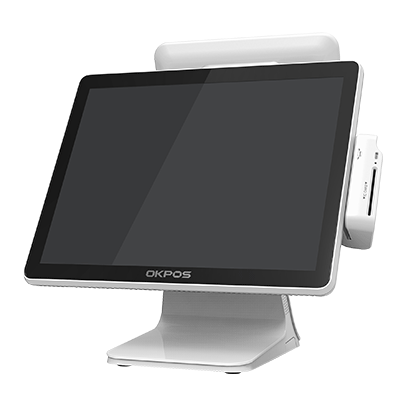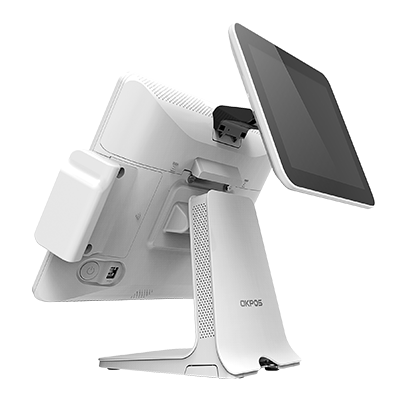 Intel's J1900 seems to be popular choice with multiple manufacturers due to it's ultra low power consumption leading to less heat and unbeatable price to performance with it's 4 cores.  While Optimus is being marketed in Korea as "Entry level" it packs enough punch to run most modern Point of Sale software on the market.
Optimus comes in either white or black.  It does not have glossy finish like APEXA G and we had mixed opinion on whether this was better or not.
On the inside, OKPOS replaced traditional SATA connector for HDD/SSD with m.2 for SSDs.  This also had mixed opinion.  Some of us liked how compact m.2 SSDs were and how much more effort it takes for end user to casually disconnect HDD/SSD.  Also due to how m.2 SSDs are held in place with a screw, this virtually eliminates the accidental disconnection.
But by removing an easy access to the storage media, it takes longer for technicians to swap/replace malfunctioning SSD/HDD compared to SATA connectors we see on APEXA G.
The version of Optimus we have comes with 4GB ram as default, but on a rare usecase requiring more memory, you will be surprised fin that Optimus has upgradable memory!  Any standard DDR3 SODIMM should work with Optimus.  But be careful to buy a single stick version because Optimus only has 1 SODIMM slot!
One thing Optimus gained for ditching bulky SATA connection seems to be larger area for I/O connectors.  Only on the top I/O panel, Optimus comes with 4x Serial ports (as RJ45) and 4x USB along with 1x VGA and 1x Ethernet port.  On the bottom rear of the Optimus, you will find additional 2x usb ports.  If for any reason you have to connect mouse/keyboard to the Optimus, you dont have to go through removing top I/O cover, and facing a serious dilemma of choosing which USB connector to unplug.
Optimus also comes with 4x Serial to  RJ45 adapters.
Unfortunately, both MSR and customer display has to be purchased separately and furthermore, Optimus does not have traditional 2 line display.
OKPOS OPTIMUS CUSTOMER DISPLAY 9.7in $239
These are the accessory items you see on the image of the Optimus above.
To conclude, we were very satisfied with Optimus in multiples ways.  It's performance is on par with other POS systems with J1900/J2900 CPU, it is very (and we mean VERY) competitively priced, it offers supreme connectivity options (no need for USB hubs anymore!), it is also pleasing to the eyes!